ECOBOT SCRUBBER
50
IDEAL FOR CLEANING IN SMALL AND MEDIUM ENVIRONMENTS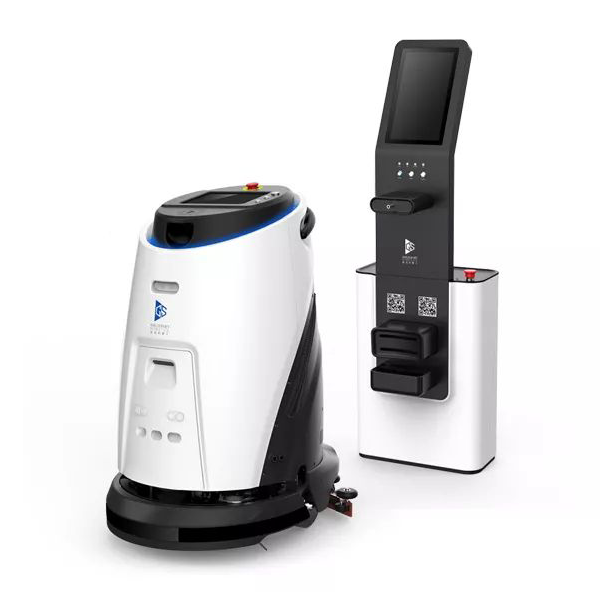 Good things come in small packages Ecobot 50 is Smart robot hailed as the future of cleaning! is a powerful service robot designed for floor cleaning and scrubbing. The autonomous robot is capable of cleaning large areas in a short period of time and is equipped with sensors that prevent it from colliding into people and obstacles which makes it suitable also for crowded environments. At the end of the cleaning cycle, Ecobot 50 will autonomously seek for its Service Station, get charged, empty waste water and refill its supplies. For a spontaneous cleaning, the robot can also be remotely operated through a designated app.
Maintenance Scrubber50 requires as low as 2 hours every month for general maintenance and upkeep, helping to push productivity to new levels.
Navigation Scrubber50 can be deployed into pre-selected areas for zone cleaning. Lift integration is an option which allows the Scrubber50 to clean multiple levels of a building autonomously.
User Interface With a friendly user interface, the robot can easily be started by the cleaning staff, either with the touch display directly on the robot or remotely from a tablet or smartphone.
Connectivity Operators can monitor the Scrubber50's performance & access cleaning reports through a user-friendly & interactive Fleet Management System.
Service Station Automatically docks itself, charges the batteries, empties & rinses the dirty water tank, & fills the clean water tank so that it is ready for its next cleaning task.
POGODAN ZA RAZLIČITE OBLASTI I ORGANIZACIJE